The rugged engineering of the BIDZ WET/DRY vacuum gives you a dependable and sturdy product for any tough clean-up task at job sites and in garages, cars, homes, and more. The perfect tool to pick up FINE DUST, DRY, and WET debris.
Rear built-in BLOWER: a great addition for cleaning workbenches, outdoor living spaces, and garage floors. Made of stainless steel –Sturdy and lightweight OnboardOnboard storage makes it easy to move around and always have accessories handy.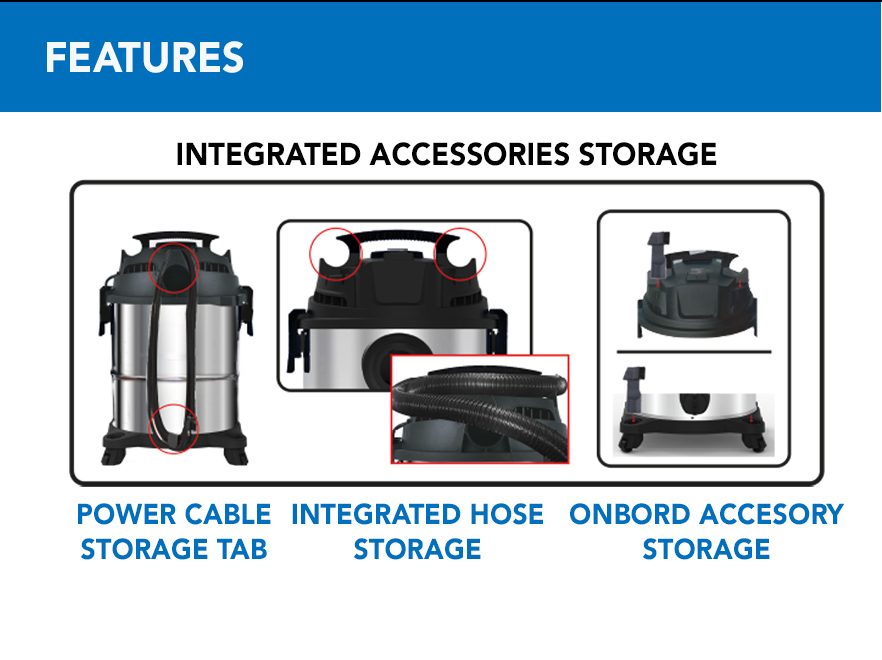 The engineering of Bidz wet/dry vacuum gives you a rugged and reliable product for all cleaning tasks.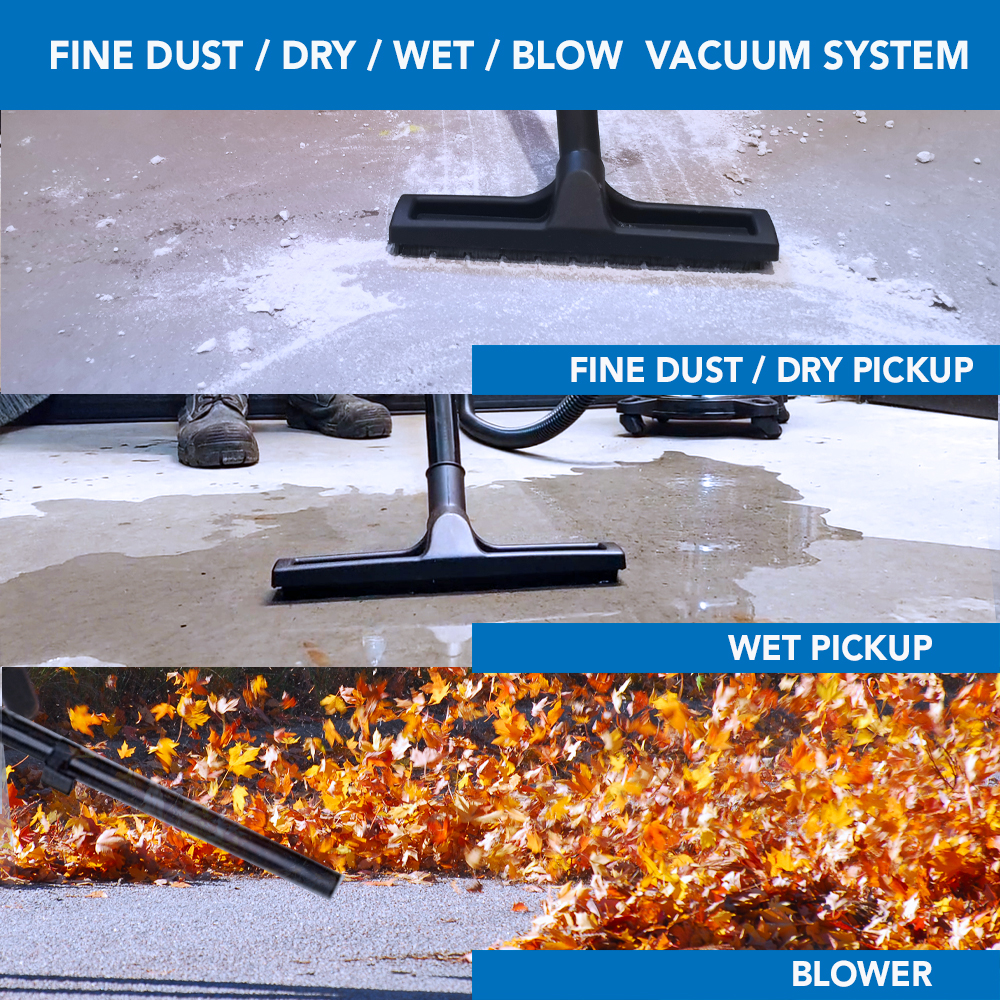 DRY (FINE DUST) / WET / BLOW 
– Dry FINE DUST debris (dirt, gypsum dust, cold ashes etc.). Using the provided disposable bags, HEPA cartridge filter or dust collector makes fine dust and dry debris pickup safe and efficient.
– WET liquid spills (water, juice, milk, etc). Reliable buoy technology ensures the safety of the motor when the water level reaches the maximum height.
– Rear built-in BLOWER port to quickly dry wet grounds or blow away debris from workbenches, outdoor living spaces, garage floors, and more!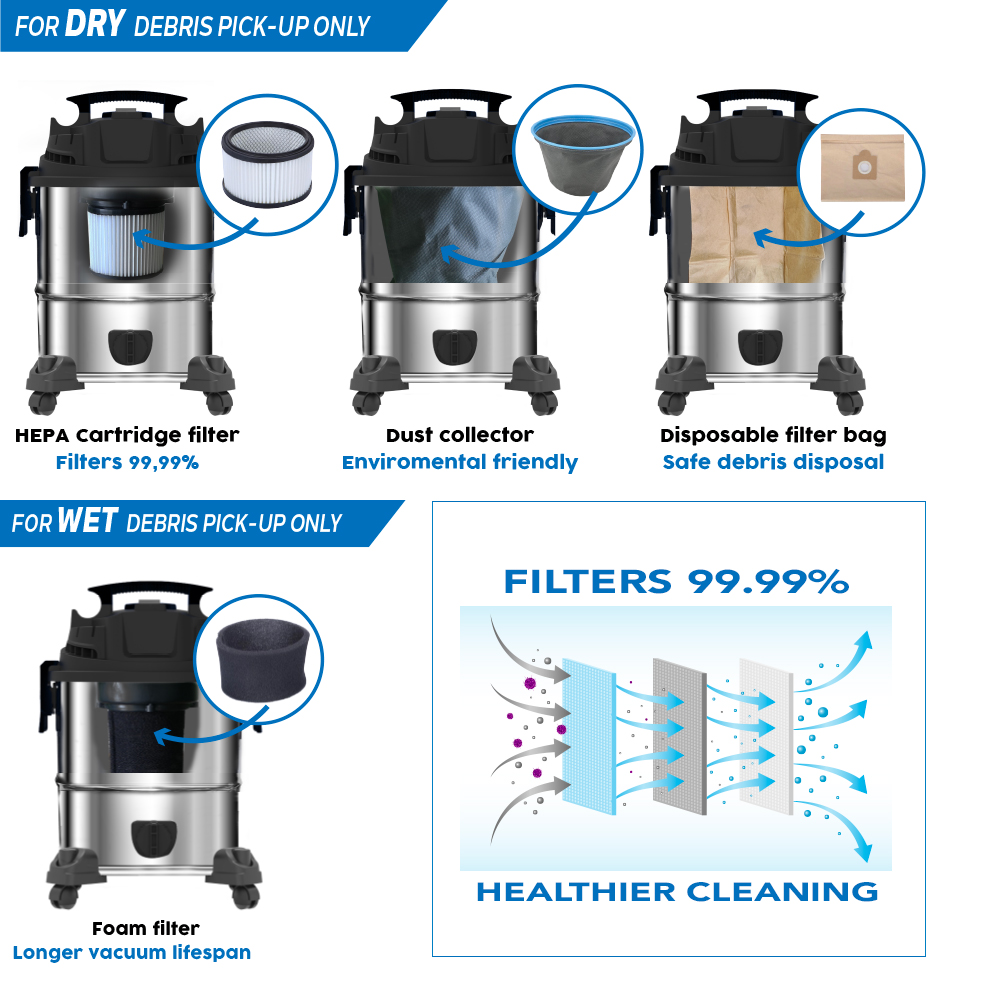 Our filtration system protects your motor and keeps harmful debris out of your home/garage.
A HEPA cartridge filter, filter bag, and dust collector are all included for a safe and efficient dry fine dust pickup.
Our high-quality foam filter is designed for maximum performance when picking up wet debris.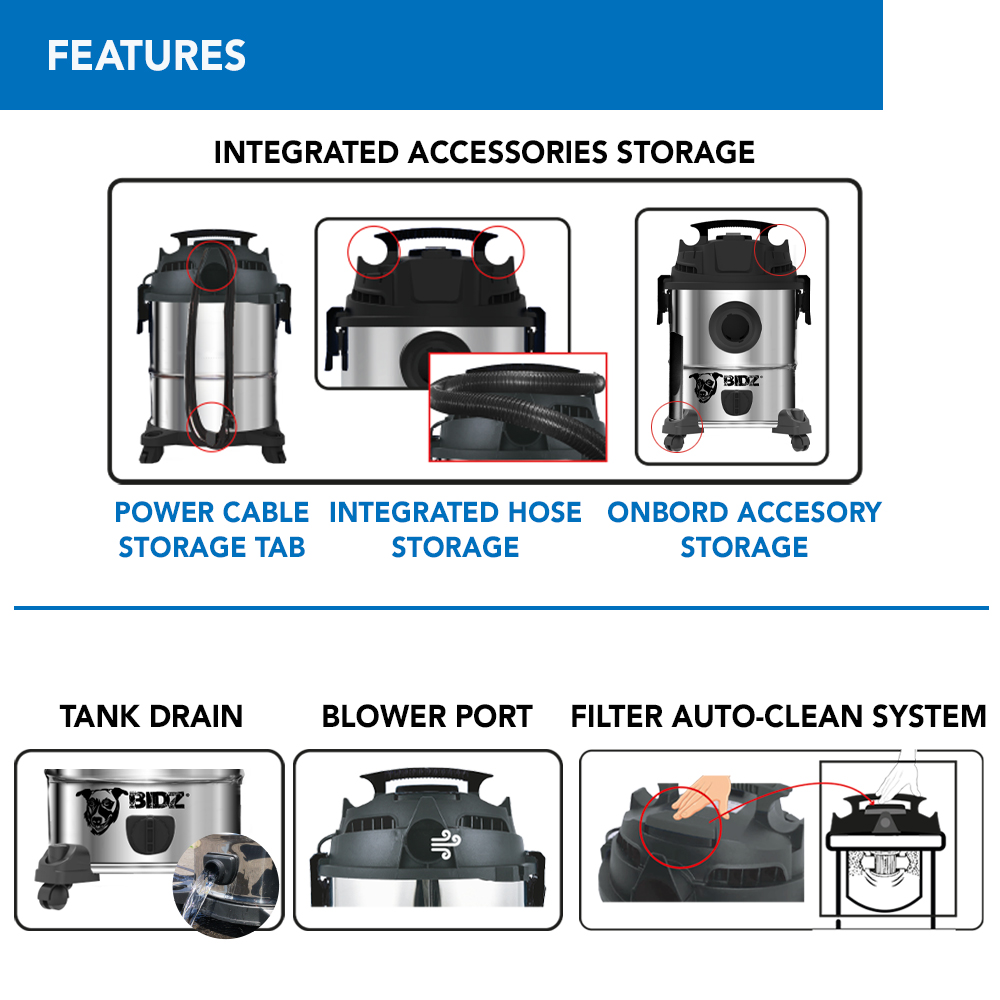 Onboard storage an added features
The onboard storage system makes it convenient to neatly store your accessories when you're done cleaning.
Integrated easy hose storage

Accessory storage on top and caster wheels

Cord wrap tab to neatly store the power cord on the unit
Rear built-in BLOWER port to quickly dry wet grounds or blow away debris from workbenches, outdoor living spaces, garage floors, and more!
Easy to use oversize tank drain to empty the unit canister quickly.
Dust shaking automatic filter cleaning system. Clean your filter with a push of a button.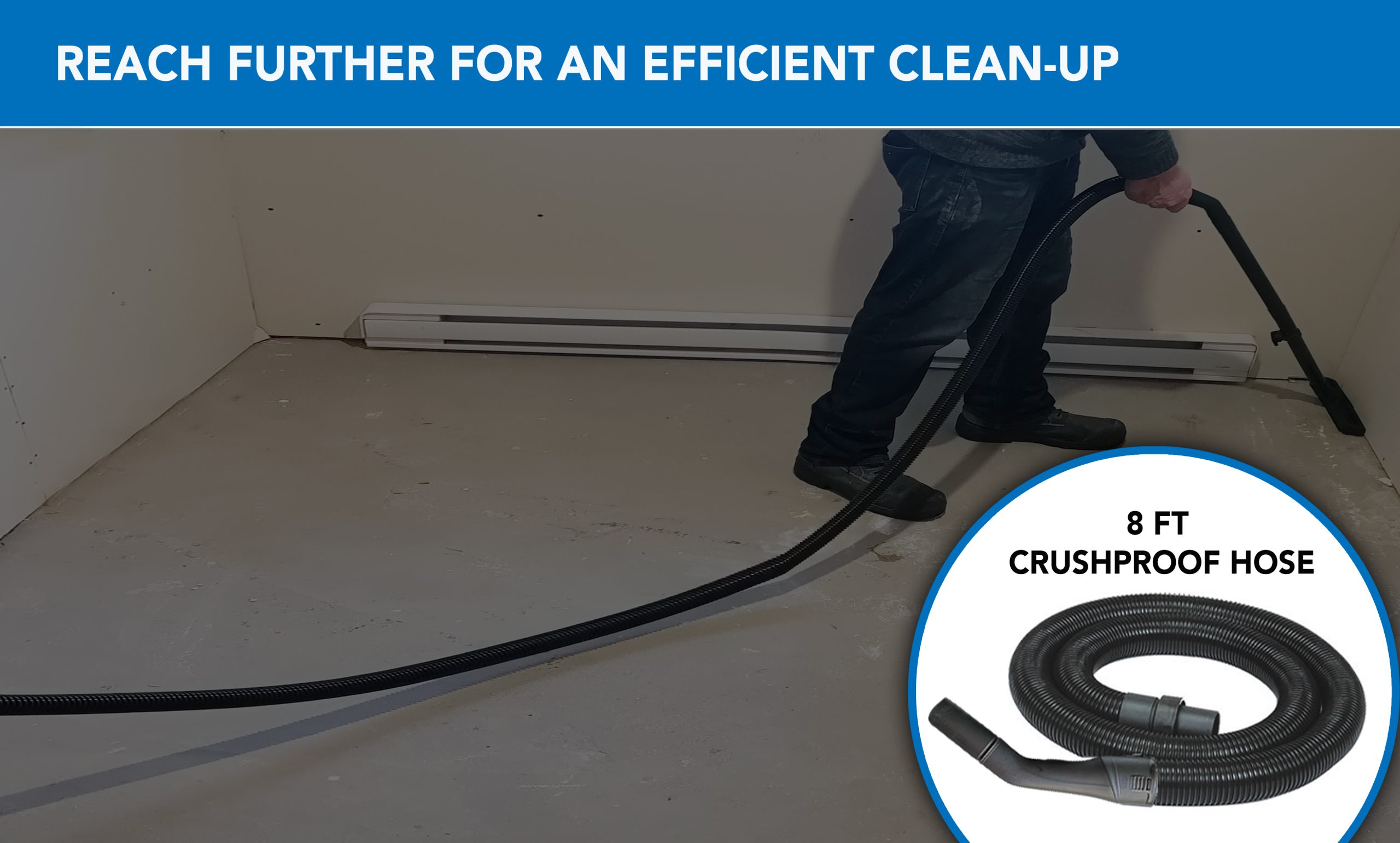 The included crushproof 8-foot hose will give you the furthest cleaning reach for shop vacuums on the market. Along with the power cord and the wand, you'll be able to reach all corners without moving the vacuum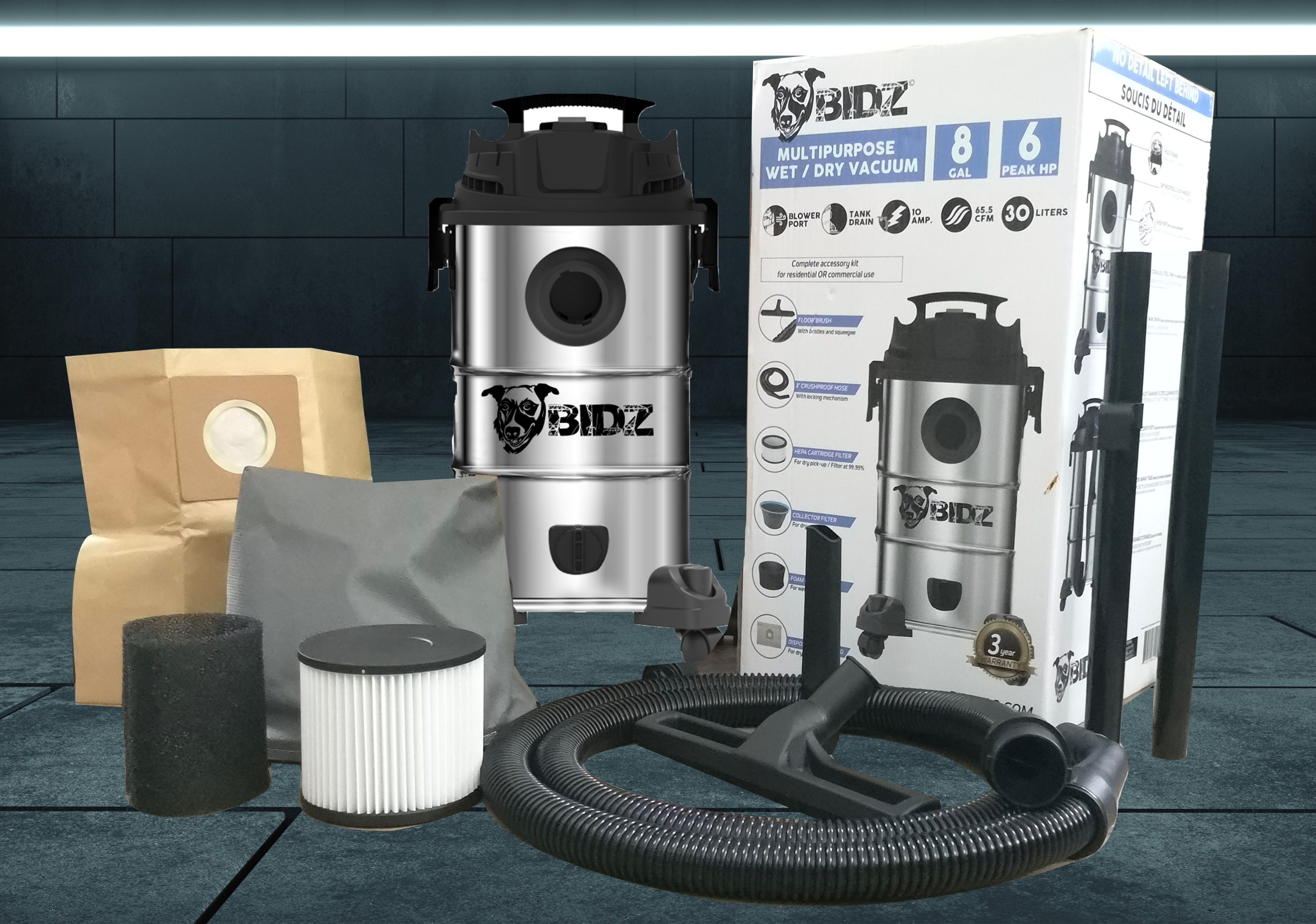 Ready to use out of the box
BIDZ vacuums come fully equipped, so NO NEED TO PURCHASE EXTRA PRODUCTS.
– FURTHEST REACH: 8-feet crushproof hose with a locking mechanism to stay in place when connected to the vacuum port
– 2-in-1 wet and dry floor brush for a faster cleaning without changing parts for different cleaning. 10" included with the 5 Gal. vacuum and 12" is included with the 8 Gal. Vacuum 
– Crevice tools to make it easy to clean cracks and crannies
– 2-part wand to reach the further spot without having to move the vacuum
– HEPA filter, Disposable bag, foam filter, and dust collector: Everything you need for an efficient and healthy clean up.
Hover on the images to reveal the features.
Jordan HyperErgo setup with adjustable standing desk
Dolor adipiscing integer ut imperdiet purus vulputate est, purus in non arcu tellus sit mi amet integer egestas aliquam massa pellentesque rhoncus ullamcorper gravida amet, maecenas feugiat elit suspendisse.